The BelgianGames Key Facts 2021 booklet, published by VGFB, offers a comprehensive overview of the video game industry in Belgium.
The report highlights the increased popularity of video games as a leisure activity, especially during the pandemic. The document presents essential data on the economic value of video games in Belgium and Europe, along with insights on how people play games and how parents engage with their children regarding in-game spending.
The report also covers interesting topics such as games in schools and games for good. As a sector, the industry is committed to creating a safe and responsible video game environment. Readers are encouraged to reach out to VGFB for more information and to share the report's findings while citing the relevant sources.
---
How we play in Europe?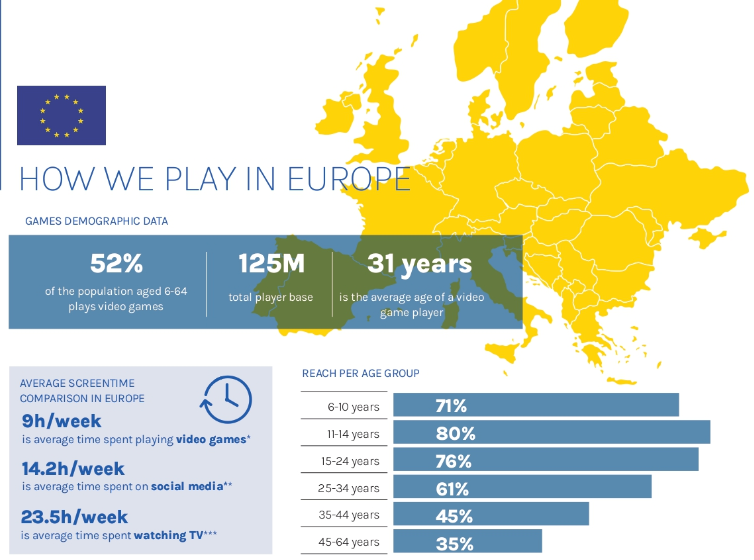 The gaming industry has a wide demographic reach in Europe, with 52% of the population aged 6-64, representing 125 million players. The average age of a video game player is 31 years. Interestingly, while gaming is often perceived as a major time-consuming activity, the average time spent playing video games in Europe is only 9 hours per week, compared to 14.2 hours spent on social media and 23.5 hours watching TV.
These statistics suggest that gaming is not the time sink that some may believe it to be and that it is becoming a more mainstream form of entertainment.
How we play in Belgium?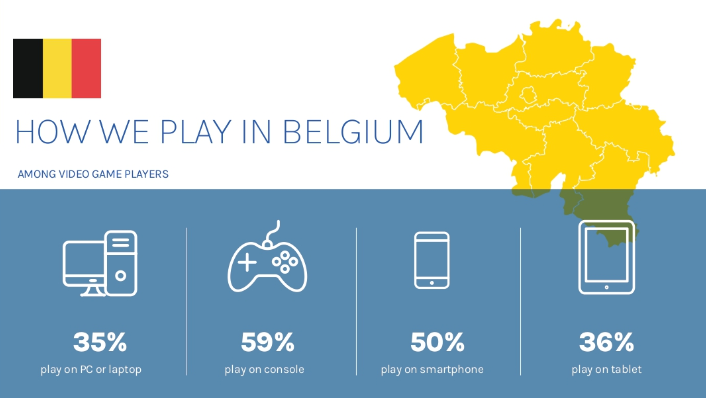 Belgian gamers play on a variety of devices, with 35% playing on PC, 59% on console, 50% on smartphones, and 36% on tablets. This shows that gamers in Belgium are diverse in their gaming preferences and are willing to play on multiple platforms.
It also highlights the importance of game developers to create games that are accessible and optimized for various devices, ensuring that all gamers can enjoy their favorite games regardless of the platform they use.
Top played video games genres by devices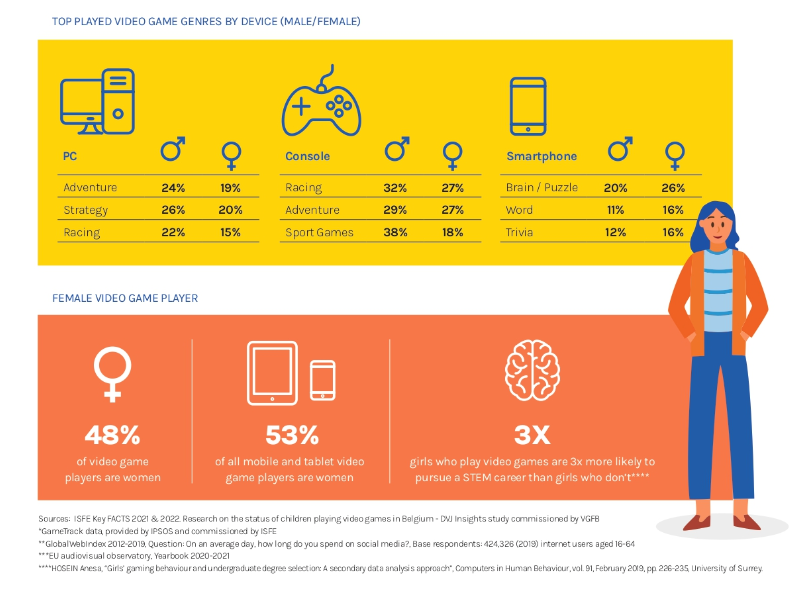 the BelgianGames Key Facts 2021 booklet is a valuable resource for anyone interested in the game industry in Belgium. It provides a wealth of information on the economic value of video games, how people play games, and the role of games in education and society.
We invite you to download the booklet and explore the fascinating world of Belgian video games. Whether you're a gamer, a developer, an investor, or just curious about the industry, the BelgianGames Key Facts 2021 is an essential guide to understanding this rapidly growing sector.
---
Source: VGFB