To get a sense of the vitality of the video game developer community, there's nothing quite like immersing oneself in a Brotaru evening. What is it? It's a monthly gathering of developers held in Brussels cafes, directly inspired by a Japanese concept called "otaru." Students in video games, professional or amateur developers, all come together every month in a café or meeting room to show the game they are working on and receive feedback from the community, to make contacts to enrich their team, or simply to enjoy a beer among people who share the same passion.
This Monday evening, the event is packed. The game café in Forest is too small to accommodate everyone. People have to jostle to move between the tables on which PCs, game controllers, VR headsets, and drinks are all competing for space. The audience is young – mostly in their twenties – and mostly male, but not exclusively so. In front of a laptop, Pablo, an employee at Demute, a Brussels-based company specialized in sound creation for video games, gives advice to a student from the Albert Jacquard High School who has come to show his graduation work: "Ah, the stairs work this time, that's cool! I see you took my remarks into account. In terms of your color palette, you should play more with contrasts."
Educational Potential
Fabio observes the scene while sipping his beer. He is there to make contacts. "I'm looking for graphic partners to help me develop my game," he says. His profile is atypical. He is a nuclear engineer who came up with the idea of developing a game whose elements from the periodic table of elements form the central element: "We use nuclear physics to play. There are radioactive elements, others that are not." Baptized Radiomon – in reference to Pokémon – his game is meant to be fun but also intelligent. "Video games have real educational potential, but they are not exploited enough in education," says Fabio.
Ben, with his cap pulled low over his head, is also working on his first game. He's already made good progress. The funding is in place. He has a publisher. All that's left to do is… "It will be a narrative adventure game that is very accessible," he explains. "You won't need to know the codes of video games to play it. You experience the story as in a movie but you are in control of the character." He bets on originality to stand out: "That's vital. There are more and more games coming to market. You have to distinguish yourself. The big studios are looking for small companies that offer different projects." For him, Brotaru symbolizes the spirit of the developer community. "There is no competition between us. We help each other so that we all have the best chance of succeeding."
Every month, the community of game developers meets up in a Brussels café to exchange advice and make connections.
And when success is achieved, it doesn't take long for the news to spread within the small community. Guillaume Bouckaert, the organizer of Brotaru, discreetly points out two people to meet: Julien and Axel. Two weeks ago, their game – Bounty of One, a "western fantasy" survival game – exceeded 100,000 sales. And that in just six months. "It's pretty crazy what happened to us. We still can't believe it," the two buddies tell us in the café's hubbub. A year ago, they were still unemployed. "We enrolled in a structure that helps job seekers create their own business. In this context, we had to develop a game for five months. We put it up for sale on Steam for five euros, and the success was immediate. After a week, we already had 10,000 sales. So we launched our own
Source: lesoir.be/490563/article/2023-01-23/dans-le-bouillonnement-creatif-dune-brotaru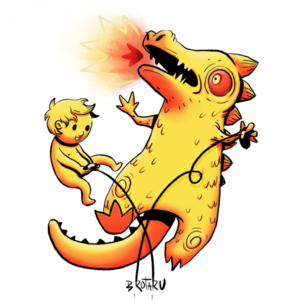 What is Brotaru?
BROTARU, a monthly Meet-up for Game Developers in Brussels, has been a vital pillar of the Belgian video game creator community since its creation in 2014. At these events, creators can connect and socialize over drinks, and explore new games in developement.