CanalZ recently spotlighted Games.Brussels SPACE, Belgium's first coworking space dedicated to video game development. Beyond being a workspace, it's an association advocating for the video game industry in the Brussels-Capital Region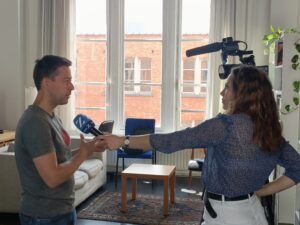 The space, which opened in February, is home to eight studios, including the emerging Tolima studio. The rent sparks interest, but the priceless community spirit is what truly makes studios stay.
In 2021, the global video game sector was valued at over 180 billion euros, outpacing music and film. While Flanders leads in Belgium, Brussels faces unique challenges, often relying on private funding, as local public funding lack. The association aims to shift this narrative, positioning Brussels as a pivotal city in the video game landscape.
About CanalZ:
Part of the Roularta group, CanalZ is an economic and financial TV channel in Belgium. Collaborating with magazines like Trends Tendances and Vif L'Express, CanalZ bridges television, internet, and print.