games.brussels is thrilled to announce that the Flemish Minister of Media, Benjamin Dalle, and the VAF "(Flemish Audiovisual Fund) have pledged their commitment to provide structural support for our mission. This support aims to facilitate our organization and foster a closer relationship between Flemish and French speaking studios.
Since we started games.brussels in 2021, we have been passionately committed to nurturing the video game development scene in Brussels through a variety of initiatives. A significant milestone in our journey has been the establishment of a coworking space, known as SPACE, in February 2023. This endeavor, located in the vibrant Dansaert area, was made possible through the support of the City of Brussels and the assistance of Cabinet Fabian Maingain, the Brussels Alderman of Economic Affairs, Employment, and the Smart City. Currently, SPACE is home to approximately seven diverse studios, fostering a dynamic and collaborative environment for game development.
In addition, 'Brotaru' our monthly event has been a cornerstone of our initiatives for nearly a decade. This event brings together game developers from across the country in Brussels, providing a platform for them to showcase their ongoing projects not only to each other but also to students, hobbyists, and other interested audiences. Brotaru acts as a vibrant catalyst, stimulating idea exchange, encouraging collaboration, and shaping the future of the game development industry.
Minister Benjamin Dalle intends to further support our mission and has allocated an annual budget of 15,000 euros through the VAF (Flemish Audiovisual Fund). This amount is intended to structurally support our operation. This includes initiatives that promote inclusion and diversity, or those that foster connections for multicultural studios.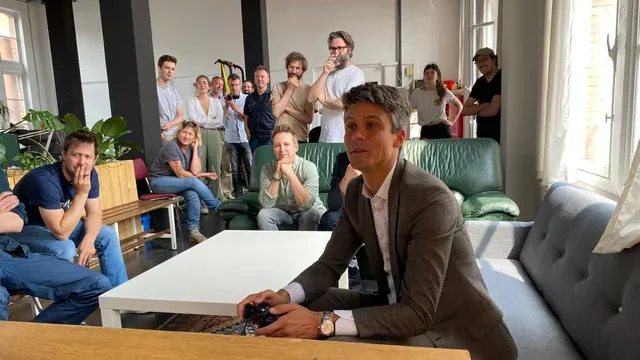 Minister Benjamin Dalle commented, "Just like Flanders, Brussels is brimming with game talent. In their coworking space, SPACE, games.brussels welcomes both talented Brussels developers, as well as Flemish and Walloon studios who wish to establish themselves in the capital. The SPACE complements Flemish initiatives such as the Flanders Game Hub and the Game Fund, which can support Flemish and Brussels developers in ways other than workplaces. With this additional support, we offer games.brussels the opportunity to build a real hotspot for game developers in Brussels."
Koen Van Bockstal, Director Intendant of the Flemish Audiovisual Fund, added, "We have been providing structural support to the Flemish professional organization FLEGA for years and work closely with them. Now we want to build a similar relationship with the Brussels professional organization games.brussels. One of the focal points of this collaboration is bringing together game studios from the Dutch-speaking and French-speaking community in Brussels. Also, inclusion, in all its forms, is high on the agenda."
We are excited about this new chapter in our journey and look forward to continuing our work in making Brussels a hotspot for game development.