The year 2021 was declared as the year of freedom, but as we write this blog post, we are still quarantined in our home offices, and a new pandemic wave is looming. While it is not what anyone expected, there is some good news, especially for the Belgian video game industry. According to the latest belgian games industry survey report, the local video game sector is showing a vigorous amount of resilience.
---
Key Figures
Compared to 2019, the overall turnover of the industry increased by 17% to €82 million, and 60% of companies expect further turnover to rise in 2021. Additionally, 47% of companies expect their full-time equivalent (FTE) count to rise in 2021, while almost 50% of active and registered companies are 5 years or older. There is also growing demand (63% vs 56% last year) for tax shelter to sustain future projects.
Taking into account the new survey eligibility, there are now 84 video game studios, publishers, service providers, and accelerators/incubators in Belgium. This might look like a drop from last year, but the new way of analyzing affects the data. Even with "fewer" players in the game, the overall turnover of our ecosystem has gone up by 17%, evening out at a very respectable €82 million. A big chunk of this is due to the soaring early access release of Baldur's Gate 3, but there are more companies that saw a higher turnover than expected.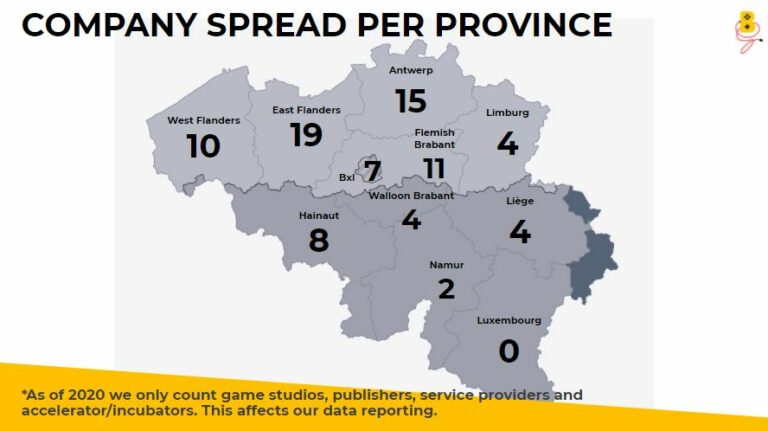 In terms of geographical spread, the majority of Belgian video game companies is still based in Flanders (71%), with the provinces of West Flanders, East Flanders, and Antwerp accounting for over half of all companies. Wallonia (20%) and Brussels (9%) remain at a fairly similar level as last year. Remarkably, the province of Hainaut is the only region that managed significant growth. Video game hotspots like Mons and Charleroi seem to be creating a healthy ecosystem south of the language border as well.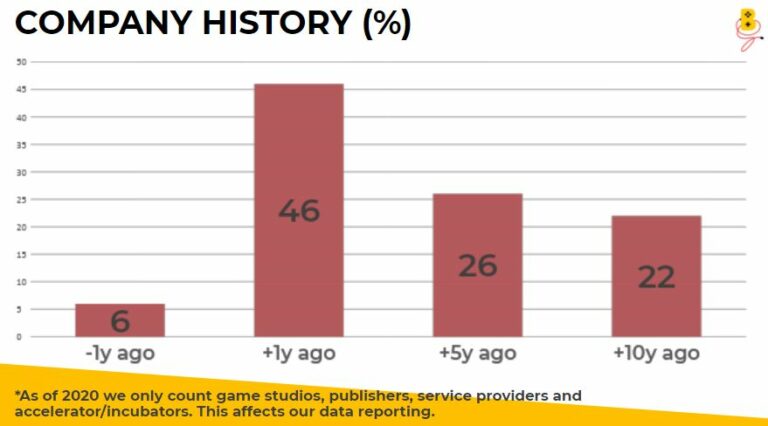 The Challenges
While it might be an indication that Brussels and Wallonia will follow a similar growth pattern as Flanders in the next five years, the industry is still fragile, especially when you consider that 85% of our companies still consist of 10 people max. Belgian studios are known for their creative output, so it is no wonder that close to 80% of our companies are working on their own intellectual property (IP). However, almost half of them indicate that they have to engage in work for hire to sustain development of their own projects. This can cause promising titles to lose momentum and focus because the team has to constantly switch up projects.
The Way Forward
Despite the challenges, there is plenty to be happy about, and there is more good stuff ahead. With Belgian key releases like Baldur's Gate 3, Outcast 2, Shredders, and You Suck at Parking bound to hit somewhere in 2022, the belgian games industry might be on the edge of its biggest year ever. The industry is experiencing an evolution that is hard to ignore.
The Belgian video game industry is showing a strong level of resilience despite the challenges posed by the COVID-19 pandemic. While the Flanders region continues to dominate the industry, the growth seen in Wallonia and Hainaut province, including the promising start-ups there, indicates that Brussels could be following a similar growth pattern in the coming years. However, the industry still faces challenges, with most companies consisting of 10 people or fewer, and a need for more investment to secure a stable future.
With only 9% of Belgian video game companies based in Brussels, there is certainly potential for growth and development in the region, after all it's all a matter of political decisions. By investing in the industry and creating an environment that fosters innovation and creativity, Brussels can play an important role in the continued success of the Belgian video game industry.
---
To simplify things and provide easier comparability with other European countries, a new methodology has been adopted as of 2020. The focus is now on counting only active and registered video game studios, publishers, service providers, and accelerators/incubators. This means that game departments at non-game companies, research programs, and educational institutions are no longer considered. While this change may make it difficult to draw direct comparisons with previous years, it ensures a smoother statistical analysis. It's important to note that companies solely focused on e-sports, retail, media, or related services like advertising, PR, marketing, legal, and HR have never been taken into account.
Source: Flega